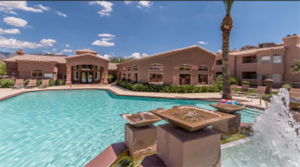 TUCSON, Arizona – When Berkadia's Senior Managing Director Art Wadlund and Director Clint Wadlund of the Tucson closed recently on Pinnacle Heights Apartments it was the conclusion of a five-property portfolio sale, worth just under $128 million, representing the highest bulk apartment sale for the region and setting a new record.  The Wadlunds represented San Diego-based MG Properties Group (Mark Gleiberman) in the portfolio sale that sold to two separate buyers with an aggregate of 1,102 units at $115,767 per unit.
Pinnacle Heights Apartments at 7990 East Snyder Road in Tucson sold for $47.15 million ($152,097 per unit) for the 310-unit complex to a group of investors from Salt Lake City, Utah, dba Pinnacle Apartments SPE, LLC. Built in 1995, the Class- A complex offers one- and three-bedroom floorplans. Renovated in 2006 by the seller, the two-story buildings include amenities such as a fitness center, spa, pool, and media center / movie theater.
In addition to Pinnacle Heights, there was a $43 million in sales and the $30 million financing of Hacienda del Rio and Colonia del Rio to the same Salt Lake City investment group. The two garden-style multifamily properties in Tucson. Managing Director David Bleiweiss and Senior Analyst Jack Hunsicker of the Berkadia Irvine, California office secured the loan through Freddie Mac.
Built in 1983 and located at 4545 and 4601 N. Via Entrada, Colonia and Hacienda del Rio sold for an aggregate of $101,415 per unit for the 424-units, offering one-, two- and three-bedroom floor plans with walk-in closets, pantries, open breakfast bars, garbage disposals and dishwashers, central air conditioning and heat and ceiling fans. Select units have washers and dryers as well as wood-burning fireplaces. Residents of both properties have access to two pools, two 24-hour laundry facilities, a play area, a dog park, a business center, barbeque grills and picnic tables, 24-hour emergency maintenance and a clubhouse with a kitchen, a pool table and flat-screen televisions.
HSL Properties of Tucson (Omar Mireles, president) also purchased the following two properties for an aggregate of $37.425 million: Casa Lindas Apartments at 699 West Magee Road in Oro Valley, a 144-unit complex, sold for $17.65 million ($122,569 per unit); and Springhill Apartments at 8030 E Lakeside Parkway in Tucson, a 224-unit complex, sold for $19.775 million ($88,281 per unit).
"We were pleased to be able to purchase the two northwest Tucson properties," Omar Mireles said. "We had looked at them when the MG Properties and Gleiberman Investments had purchased them in a portfolio along with three other properties that they are also selling."
All of the properties were at or around 95% occupancy at time of sale.
For additional information, Art Wadlund should be reached at 520.299.7200 and Clint Wadlund is at 520.615.1100.
To learn more, see RED Comps #6124, #6125, #6126, #5956 and #5957.