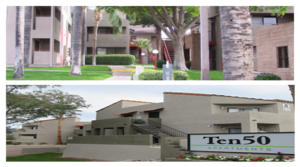 TUCSON, ARIZONA – Two LLCs affiliated with the McMillin Companies of El Cajon, California (Corky McMillin, owner) purchased Nine90 and Ten50 Apartment communities for an aggregate of $19.45 million ($101,300 per unit). Berkadia Real Estate in Tucson handled the transaction.
Nine90 Apartments is located at 990 East River Road in Tucson with 72-units and Ten50 Apartments is at 1050 N Camino Seco in Tucson with 120-units.
The seller, Radium Investments V, LLC of Phoenix (James Szymanski, manager) purchased both properties together in 2017. Ten50 had common areas renovated since the purchase, clubhouse, laundry area, and office and Nine90 Apartments had light upgrades made to the interiors of some units. Both communities were built in 1985 and sold in what was described as "a short market time" by brokers and with 98% occupancy.
Both Nine90 and Ten50 offer one- and two-bedroom floorplans with an average unit size of 611-square-feet. Community amenities at both include resort-style swimming pool and spa, community laundry facility, and 24-hour emergency maintenance. Residents of Ten50 are also close to Saguaro High School and Magee Middle School.
Art and Clint Wadlund of Berkadia Real Estate Tucson represented the seller. In fact, this is the third time the Wadlunds have sold these two communities since 2015, each time the price has almost doubled.
For additional information, Art Wadlund can be contacted at 520.299.7200 and Clint Wadlund should be reached at 520.615.1100.
To learn more, see RED Comps #8148 and #8149.