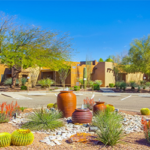 TUCSON, ARIZONA — Berkadia has completed the $27.9 million ($109,645 per unit) sale of Dorinda Vista, a multifamily property at 7576 and 7596 North Mona Lisa Road in Tucson. Senior Managing Director Art Wadlund and Associate Director Clint Wadlund of the Tucson Berkadia office completed the sale on behalf of the seller, Prime Residential of San Francisco. The buyer was FW Group of Seattle. FW Group now owns 1,038-units in Tucson.
"Dorinda Vista is the third acquisition for FW Group in the Tucson market in the past 12 months," said Art Wadlund. "Properties in the Tucson market have been highly sought after this year by investors, and the addition of Dorinda Vista to FW Group's portfolio compliments their other two Tucson properties nicely."
Built in 1998, Dorinda Vista is a 254-unit property featuring one-, two- and three-bedroom floor plans. Each space features full-size washer and dryer units, ceiling fans, double vanity sinks, fireplaces and pantries. Residents enjoy amenities including a fitness center, two swimming pools and spas, and a business center.
Located at 7596 North Mona Lisa Rd., Dorinda Vista is easily accessible from Ina Road and Interstate 10. The property is less than three miles from the Catalina Foothills and approximately nine miles from downtown Tucson. Major nearby attractions include Omni Tucson National Resort and the Foothills Mall, and the top employers in the area include the aforementioned resort, the Tucson Mall and Northwest Hospital.
Earlier this month, Berkadia completed the sale of the Springs at Continental Ranch Apartments, at 7901 North Cortaro Road in Tucson for $21 million ($106,760 per unit) to The Bascom Group and funds managed by Oaktree Capital Management LP. The seller was Mercer Green Investments of New York City.
The new owner of Springs at Continental Ranch Apartments bought as a value-add property and plans to upgrade the 196-unit community's interior, exterior and amenities.
"Springs at Continental Ranch provided us with an opportunity to acquire a multifamily property well below replacement cost, with significant upside with our value-add program," said Mark Brotherton, portfolio manager of Bascom affiliate Bascom Arizona Ventures.
Built in 1999, the property consists of 19 two-story buildings with two resort-style swimming pools and a spa. Other common amenities include a 24-hour fitness center, controlled access gated entry, common area Wi-Fi, barbecue grills, theater room and private garages.
The Bascom Group is no stranger to the market. Springs at Continental Ranch is its 15th acquisition in Arizona since mid-2012, and its second in northwest Tucson in the last 30 days. See Real Estate Daily News October 6, 2016.
ACORE Capital provided debt financing for the deal, which was arranged by Brian Eisendrath, Brandon Smith, and Annie Rice of CBRE. Art Wadlund and Clint Wadlund of Berkadia represented the buyer and seller on the transaction. Going forward, property management will be overseen by Arizona-based Morrison, Ekre & Bart Management Services.
Apartment occupancy increased, and average rent rose, as job growth has accelerated in the Tucson metro area during the last 12 months. Multifamily operators recorded average occupancy of 93.4 percent at the end of the third quarter of this year, an increase of 50 basis points from the same period in 2015.
For more information, Art Wadlund can be reached at 520.299.7200 and Clint Wadlund is at 520.615.1100.
To learn more, see RED Comp #4261 and #4281.