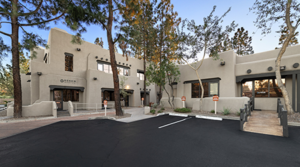 PHOENIX, Arizona – On behalf of Pueblo Nuevo Holdings, LLC (principal, Jason Buxbaum), Cushman & Wakefield has closed the sale of Pueblo Nuevo located at 301 E. Bethany Home Road in Phoenix. GMK Assets Corporation of Beverly Hills, Calif. purchased the property for $11.95 million ($125 PSF).
Pueblo Nuevo is a garden-style, 95,810-square-foot multi-tenant office complex. The Property features attractive Santa Fe architecture and large central courtyards filled with gardens, Koi ponds and waterfalls. An extensive renovation of the property was completed from 2016 to 2018.
Eric Wichterman and Mike Coover of Cushman & Wakefield Phoenix represented the seller in the transaction.
Wichterman stated, "Pueblo Nuevo is a unique 'niche' office building with a superb location within the prized 7th Street Corridor, which has emerged as a hotspot for hip restaurants, retail, apartments and upscale office space."