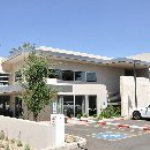 A 7,707-square-foot office building located at 7000 E. 1st Ave. in Old Town Scottsdale was recently sold for $2.15 million. Price per square foot was calculated at $278.97.
The entity, Laguna Holdings, LLC dba Bigfish Creative Group was the buyer of the property. The design and marketing agency will occupy the space when interior upgrades are completed by the first of the year. Comptrol Technologies was the seller of the property and included a short-term sale leaseback until the end of November.
Bill Blake and Colton Trauter, Principals with Lee & Associates Arizona negotiated on behalf of the buyer. Barry Lammersen of Lammersen & Associates represented the seller. Tom Alteri, Senior Vice President with MidFirst Bank provided financing.
The building offers abundant parking, excellent visability and is in close walking distance to area amenities in the heavily sought-after Old Town Scottsdale area. There are more than 3,400 businesses with 43,000 employees located within one and-a-half miles of the property.
The two-story building, built in 1974 and renovated in 2012 has high-end features such as double-pane windows, vessel sinks with waterfall faucets and seven new HVAC roof units.
For more information, Blake can be reached at (602) 954-9503. Trauter is at (602) 474-9503. Lammersen should be contacted at (480) 789-0060.