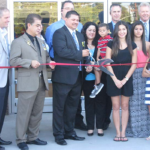 On September 11th, the El Con Walmart at 3425 East Broadway in Tucson opened with great ceremony. Tucson Police and Fire Department, the Chamber of Commerce, Councilwoman Shirley Scott, Walmart employees, neighbors and representatives from every branch of the military were in attendance.
The ceremony began with a moving 9-11 remembrance that involved the military representatives and local first responders, followed by ribbon cutting and donation checks being handed-out to a myriad of local charities. Walmart donated unpretentiously and did not want to mention the charities that they helped at this event.
Walmart's website explains their community participation as follows: "We consider it our responsibility to make a positive impact in the communities we serve. Whether it's through the grants we provide to the thousands of organizations that share our mission or through the inspiring volunteer efforts of Walmart associates, we are passionate about helping people live better. One community at a time."
In 2012, Walmart and the Walmart Foundation gave more than $1 billion in cash and in-kind contributions around the world. This includes $1 billion in cash and in-kind gifts in the United States and $82.2 million in cash and in-kind gifts in international markets. In addition, Walmart, Sam's Club and Logistics associates volunteered more than 2.2 million hours, generating $18 million to U.S. nonprofits.
Participants at the event commented on how very nice and professional it all was and were impressed by the large number of people who came out so early in the morning. It was a brief moment of reprieve from any controversy and a brief look towards the future with a Walmart in the neighborhood. It was a happy day!
The neighborhood association and Walmart had come to agreement over several issues, and as a result of the agreement, the City Council voted unanimously the night before to instruct City Attorney Mike Rankin to offer no objections during Walmart's rehearing before the Arizona State Liquor Board on Thursday. This after the City Council voted in March to oppose the liquor license, hearing from angry residents that resulted in Walmart's liquor license being denied.
Well, it wasn't enough to change the State Board's ruling. On Thursday Walmart was denied a second time, this time for a wine and beer license only.
Walmart's director of communications Delia Garcia in an email told us, "We are disappointed in the State Liquor Board's decision to disregard the efforts of the neighborhood associations, the City of Tucson, and Walmart in negotiating a mutually acceptable agreement that respects the priorities and objectives of each party. Their decision essentially nullifies months of good faith discussion, forcing us back to square one. As we evaluate our options, Walmart's focus remains steadily on our Mid-town customers and offering them the convenience and affordability they have come to expect from Walmart."
City Councilman Steve Kozachik, who helped broker the deal between Walmart and neighbors, is quoted in the Arizona Daily Star as saying, "By making this ruling, they denied the will of the people of Tucson."
Walmart still has options. It can immediately appeal the board's ruling in court or wait one year and reapply. Perhaps the 30 angry people who came out to stop the permit last March could make it to one more meeting? This time in support of the Neighborhood / Walmart agreement.