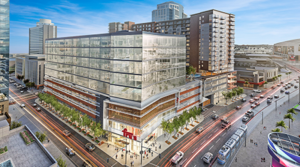 Ernst & Young Signs 20,000 SF Lease at New Downtown Mixed-Use Development
PHOENIX, Arizona – Cushman & Wakefield have announced that Ernst & Young, a global leader in assurance, tax, transaction and advisory services, signed a 20,000-square-foot lease at Block 23 at CityScape.
Jerry Roberts and Pat Boyle of Cushman & Wakefield's agency leasing group negotiated the lease on behalf of RED Development. Larry Downey and Brett Thompson of Cushman & Wakefield's tenant advisory group represented Ernst & Young.
Located at 101 E. Washington Street in Downtown Phoenix, Block 23 at CityScape is a brand new Class A, mixed-use development expected to be completed in June 2019. Ernst & Young's new office will be located on the top floor of the six-story building. They will be relocating from their current location at Renaissance Tower in January 2019.
"It's a great opportunity to be on the top floor of a new building, the first new construction in Downtown in many years," said Larry Downey.
At completion, Block 23 will encompass 1.5 million square feet and provide a true mixed-use environment that will allow tenants live, work, and play all in the heart of the newly reinvented downtown core. Included within the development will be 300 luxurious residential units, a 45,000-square-foot urban Fry's Fresh Marketplace and 230,000-square-feet of creative office space.
The office space has been designed with the next generation of office users in mind. The 45,000-square-foot floor plate is the biggest in the Central Business District (CBD) and can be easily divisibly. The product will be truly unique with full height glass throughout, contemporary open ceilings and a 16-foot slab to slab height.