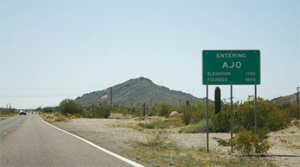 PIMA COUNTY — The Board of Supervisors Dec. 4 unanimously approved donation agreements that will preserve approximately 545-acres of an important natural area just west of the community of Ajo in far western Pima County.
The land, made up of 11 privately-owned parcels that feature a mix of large saguaro cacti and organ-pipe cacti, sits in a largely undeveloped area known as Alley Valley, separated from Ajo by Camelback Mountain and surrounded by federal land managed by the Bureau of Land Management. Alley Road, a dirt road maintained by Pima County, passes through the valley and is part of the Ajo Scenic Loop, a 10-mile circuit that includes spectacular views of the Sonoran Desert landscape.
"The property owners had been working for several years to find the best way to conserve Alley Valley and they approached us about it," District 3 Supervisor Sharon Bronson said. "After discussions with experts from Natural Resources, Parks and Recreation and the Office of Sustainability and Conservation, it was determined that the donation of conservation easements would be the best way to preserve this important natural area."
By donating the easements, the property owners retain ownership of the land but will be legally restricted from most development activities.
The public will not be permitted to access the parcels but would reap benefits from being able to enjoy views of the landscape and wildlife which include desert bighorn sheep and endangered Sonoran pronghorn. Unlike acquiring the land, the only cost to the County will be checking up on the properties once in a while to ensure they remain in compliance with the agreement.
Since 2008, Pima County has accepted donations of land or conservation easements from 34 owners, totaling 3,575-acres and valued at over $15 million. Most of these donations expanded existing parks and conservation areas. Some donors are private individuals; others are development companies who voluntarily offset future development impacts. Depending on the situation, donations of land or conservation easements to Pima County or another qualified conservation organization can result in tax benefits to the donor.