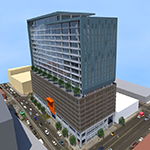 Rio Nuevo, J.E. Dunn to build downtown's first Class A office building in 30 years
PIMA COUNTY – The Pima County Board of Supervisors Jan. 8 voted 4-1 to approve a lease-purchase agreement with Rio Nuevo Multipurpose Facilities District for 75 E. Broadway. Rio Nuevo is working with a developer that intends to build a Class A office tower on the two-thirds-of-an-acre site that will include parking and ground-level retail shops, restaurants and entertainment.
Once constructed, it will be the first addition of Class A multi-user office space in the downtown area in 30 years. Class A offices feature top-of-the-line furnishings and the latest technology and office system designs. In 2017, the Site Selector Guild, the world's largest association of business expansion and relocation professionals, held its annual conference in Tucson and members told regional economic development officials that the lack of available Class A offices in Tucson was a significant weakness for the region's effort to compete nationally for relocations and expansions.
The agreement involves a partnership between the county, Rio Nuevo and developer J.E. Dunn. Once construction is ready to begin, Rio Nuevo will rent the property from the county at a market rate of $189,000 a year. When construction is completed, which is expected to take two years, Rio Nuevo will purchase the property from the county for the appraised value, $2.7 million. The county acquired the property in 2005 for $500,000 as part of the purchase of 97 E. Congress St.
J.E. Dunn and Rio Nuevo have reached an agreement for the developer to build a minimum of 150,000 square feet of office space up to 250,000 square feet, plus a 350-space parking garage. The ground floor and part of the alley between Congress and Broadway is expected to be a mix of retail shops, restaurants and entertainment venues.
"Having a multi-use facility of this quality is an important component of our continuing quest to attract to the region companies offering high-wage jobs. With hundreds of housing units being built downtown, it is important to add quality office space for a balanced community in order to attract the millennial workforce, just as Caterpillar and Hexagon Mining are doing," said County Administrator Chuck Huckelberry in a memorandum to the Board of Supervisors about the agreement. "Developing county-owned properties for high-wage employment and returning them to the tax base are two of the key components of the county's Economic Development Plan."
Initial site evaluations have been completed and an archeological review of the site will occur this winter. Once that is completed, J.E. Dunn will have 12 months to commence construction.
Dave Volk with CBRE in Tucson is handling the leasing of property click here to learn more about 75 E. Broadway project.