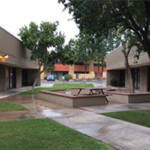 TUCSON, Arizona — The nonprofit, Community Foundation for Southern Arizona (Fred Chaffee, Chairman) purchased the office campus at 5049 E Broadway Blvd in Tucson from the Catalina Council of Boy Scouts of America for $2 million ($77.29 PSF) and the Catalina Council of Boy Scouts of America bought the office at 2250 E Broadway Blvd from Community Foundation for Southern Arizona for $500,000 ($98 PSF).
Both nonprofits occupied the properties they sold to the other and will trade places once the tenant improvements are complete.
The Campus environment at 5049 E Broadway consists of three buildings, two single-story and a two-story building totaling 25,878-square-feet, built 1978 on 1.66 acres. The Boy Scouts occupied approximately 5,000-square-feet and a Scout Shop here and were looking to get out of the landlord business. The property was 80% occupied when it sold on month-to-month leases.
The Community Foundation needs the office campus for space to combine its charities at one location. The building they were in at 2250 E Broadway Blvd is 5,099-square-feet on .9 acre built in 2000, a perfect size for the Boy Scouts to occupy.
Formed in 1980, the Community Foundation works directly with other nonprofits, government, the business community and other partners in philanthropy to enact long-term solutions in areas such as animal welfare, arts and culture, community development, education, environment, health and human services.
Since 1920, the Tucson Council of Boy Scouts of America was formed and changed its name to Catalina Council in 1922.
Greg Boccardo of Boccardo Realty in Tucson represented the Boy Scouts and Jon O'Shea of Vast Commercial Real Estate Solutions in Tucson represented the Community Foundation.
For more information, O'Shea can be contacted at 520.624.9400 and Boccardo should be reached at  520.955.0777.
To learn more, see RED Comp #4783 and #4778.