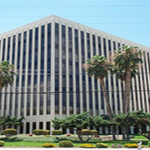 The sale of a Class-A, 8-story office tower at 4400 E Broadway Blvd in Tucson closed yesterday for $8.125 million ($67 PSF). The 121,300 rentable-square-feet tower is also known as the 'Bank of Tucson Building' due to its main tenant and signage on top. Built in 1969, with elevators, the 8,200-square-foot basement combined with the 8-stories, the gross building size is closer to 132,000-square-feet and sits on a 4.57 acre lot.
The building had no deferred maintenance we were told when it sold and even had new elevators installed less than 1-year ago. The basement is used for dry storage, and each of the floors measures approximately 11,400-square-feet.
The investor is 4400 Broadway, LLC (Daniel Norville, manager) of Phoenix who plans to spend an additional $1 million in upgrades to the lobby, for lighting and other cosmetic improvements. The building was 70% leased at closing, and should have 78% occupancy shortly based on potential leases out for signature. Tenants include Bank of Tucson in 16,000-square-feet, Power Physique in 9,000-square-feet, a health spa in the west wing, a full service restaurant and Daisy Diamond hair salon are in the building, and Congresswoman-elect Martha McSally has her office here in 3,800-square-feet.
The property has more than ample parking with 490 spaces and a 1:240 parking ratio.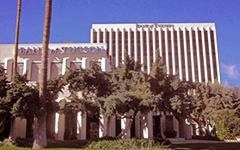 The seller, 4400 Tower, LLC (Robert & Alvin Kivel, members) of Tucson was represented by Michael Gross of Tucson Realty & Trust Co. and Rick Kleiner of Cushman & Wakefield | Picor of Tucson. The buyer was self-represented in the transaction.
This was the third time Gross told us he had sold the building in over 30-years managing it. The Kivels bought it in 1998 and prior to that, Gross sold it in 1985. Needless to say, Gross has been retained by the new owner to continue management and leasing of the property.
Kleiner said, "The property seems to be a great fit for the investor, who knew exactly what he wanted, a stable investment in an ideal location where value could be added."
To learn more Gross can be contacted at 520.577.7000 while Kleiner can be reached at 520.546.2745.
Login for additional information.
[wlm_ismember]Sale date 12/17/2014. Escrow time was 3 months.  Asking lease rate at time of sale: $17/SF/full service. [/wlm_ismember]