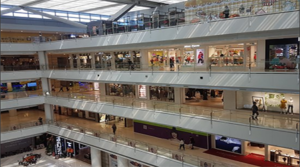 Reuters is reporting, economic planners in China have been striving to manage the country's transition from a manufacturing economy to one that is more dependent on consumption.
China's Government is encouraging its larger cities to build more shopping centers this year to meet the growing consumption demands of local residents, according to new government guidelines.
The Ministry of Commerce said on Saturday that it would encourage cities with a permanent resident population of more than 10 million to each build at least 10 "multi-functional" shopping centers this year, which could include childcare, entertainment and restaurants.
Cities with a permanent resident population of five to 10 million might build five such centers or more, it said in a statement posted on its website.
Without providing details, the government said it would offer assistance to retailers and investors to help them build such centers for consumers lacking sufficient places to shop.