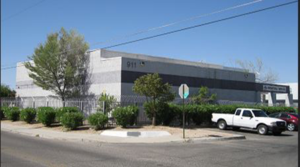 TUCSON, ARIZONA – The Pascua Yaqui Tribe of Arizona purchased a net leased office building at 911 West Grant Road in Tucson for $740,000 ($108 PSF).
The 6,840-square-foot building is leased to PVB Metal Fabrications (PVB) that recently purchased 9.74 acres of land at 8037- 8041 W Tangerine Road in Marana for $1.3 million ($3.06 PSF) to construct a new facility for consolidation of their manufacturing and offices. Watch for more to follow on this transaction tomorrow; Sun Corridor assisted with the site selection.
PVB will continue to lease the building at 911 West Grant while construction is underway in Marana.
The Grant Road property was purchased by the Tribe due to its location adjacent to a 14.38-acres designated into a trust with the Bureau of Indian Affairs. It is here that the city and tribe have a preliminary agreement for a proposed hotel and casino that would be located atop the old movie theater near I-10 and Grant.
In July 2019, the tribe and city entered into an Intergovernmental Agreement (IGA), which includes a set of stipulations for both parties, including for which city services the property would be eligible, and how the property would receive groundwater, should the development not be in compliance with city statues.
The process may take years or even a decade before being finalized. The IGA includes a 90-day alert to the adoption of a Tribal Resolution that green-lights any regulations or requirements needed to conduct gaming on the site. In addition to, Tribal leadership being required to notify the city one calendar year prior to opening a casino.
Tom DeSollar, EMS, with Arizona First Properties represented the seller, Archon Properties of Marana (Doug Gratzer, managing member) and Max Fisher with Cushman and Wakefield | Picor represented the buyer.
For more information, DeSollar should be reached at 520.400.2732 and Fisher can be contacted at 520.546.2709.
To learn more, see RED Comp #7419.