Award-Winning Fast-Casual Chain to Exhibit at Franchise & Business Opportunities Expo, May 3-4  in Phoenix
TAMPA, Fla.– Burger 21®, a new better burger franchise founded by the owners of The Melting Pot® Restaurants, Inc., announced today it plans to expand in the Phoenix market with future franchise development. The company currently has two Arizona locations in development in Scottsdale and Chandler, both expected to open later this year. To date, Burger 21 has 12 open locations and 18 franchised restaurants in development across the country.
"Burger 21 is dedicated to providing guests with a unique better burger experience," said Dan Stone, vice president of franchise development for Front Burner Brands, management company for Burger 21. "We've seen a strong interest in our brand in Arizona and we're looking for additional franchisees to help us bring Burger 21's chef-inspired burger creations and hand-crafted signature shakes to even more locations throughout the Greater Phoenix area."
To further fuel Burger 21's expansion in the area, the company will be exhibiting at The National Franchise and Business Opportunities Expo May 3-4 at the Phoenix Convention Center. Local entrepreneurs are invited to meet with the brand's franchise development team at booth #207 to learn more about growth opportunities.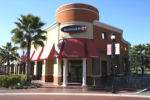 Recognition for rapidly-expanding Burger 21 in 2013 included being named one of Fast Casual's Top 100 "Movers and Shakers." The concept ranked No. 22 based on its variety of innovative recipes and recent expansion. In addition, the franchise's gluten-free menu received the No. 1 ranking in the "Top 10 Menu Innovations" category and Mark Johnston was recognized as one of the "Top 20 People" for his strategic leadership in the growth and development of the brand.
Burger 21 is seeking single- and multi-unit operators with restaurant experience to join its upscale fast casual dining concept. Franchisee candidates should have a minimum net worth of $500,000 and liquid assets of at least $200,000 per unit. Burger 21 will be developed through both single-unit agreements and Area Development Agreements. Depending on the real estate site selected, franchisees can expect the total investment for one restaurant to be approximately $416,133 – $933,895. The initial franchise fee is $40,000; however, reduced franchise fees apply for Area Development Agreements of four or more units.
Additionally, Burger 21 will host a live webinar on April 17 at 2 p.m. EDT to drive national expansion. To register, or to learn more about franchising opportunities with Burger 21, please visit www.burger21franchise.com/events.aspx or contact Ashley Pollard, franchise development manager for Burger 21, at 813-425-6252 or apollard@burger21.com to learn more about ownership opportunities with Burger 21.