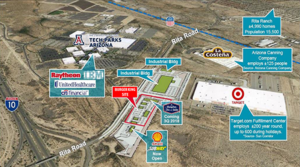 TUCSON, ARIZONA – A new Burger King is planned at Interstate Commerce Park in Tucson. Phoenix- based, Laird Real Estate, LLC (Michael Laird) an affiliate of Laird Management purchased a 47,916-square-foot pad, approximately 1.1 acres, north of the northeast corner of I-10 and Rita Road for a built-to-suit restaurant site.
The site pad commanded a sale price of $500,000, or $10.43 PSF.
Laird Management is an Arizona family owned company that manages and operates over 30 Burger King restaurants statewide. Laird Management's founder, Mitchell C. Laird, is a practicing attorney for 40 years with 20 years' experience as a Burger King franchisee. Michael Laird purchased the company from his father, Mitchell and is one of the largest Burger King franchisees in Arizona. Laird Management employs over 600 employees and boasts a management team with combined years of loyalty, service and experience in excess of 100 years.
Michael Laird also currently serves as president of the Southwest Franchisee Association and is a member of the board of directors of the Arizona Chamber of Commerce.
Brian Woods of Colliers International represented the buyer, Laird Real Estate. The seller was Tucson-based developer, Diamond Ventures, Inc., that was self-represented in the transaction.
The transaction closed on June 29, 2018.
For more information, Brian Woods, Senior Vice President | Retail Properties, can be reached at 602.222.5026.
To learn more, see RED Comp #5966.