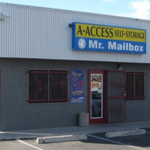 Judd Property, an affiliate of the Hagger Group of Canoga Park, CA (Chad Hagger, principal) purchased A-Access Self Storage at 4070 E 29th Street in Tucson for $1.9 million ($7,983 per unit).
The 31,415-square-foot self-storage facility with 238 units located sits on 2.75 acres, allowing room for expansion. A well-established Budget Truck rental business was also included in the transaction.
Located just off I-10 near the University of Arizona. The property was reported to be 85-90% occupied at time of sale with growing rental rates and stable financials. The buyer owns other self-storage businesses and has plans for expansion into semi-fixed and portable storage.
Michael Brazill and Roger Jeffries with Sun Commercial Real Estate in Las Vegas and Paul Miachika with Sun Commercial in Phoenix handled the transaction for the seller, A-Access Self Storage, LLC of Tucson (DR McMillin, manager) and the buyer.
To learn more Brazill can be reached at 702.968.7306, Jeffries at 702.968.7334 and Miachika can be called at 602.814.0661.
For additional information see RED Comp #3140.