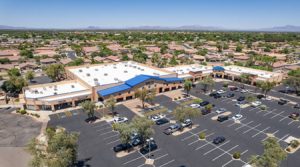 Fully Leased Gilbert Retail Center Caters to Surrounding Active Community
PHOENIX, SEPT. 28, 2023 – The Shoppes at Mirador Square, located at the northeast corner of Warner and Lindsay roads in Gibert, AZ, has been sold to a California investor that is entering the Arizona market.
"This is the seventh asset our team has sold on behalf of this private investor as they close out their multi-tenant retail investment portfolio" says Mindy Korth, executive vice president with Colliers in Arizona. "The property's strong tenancy, location, and timeless design made it an excellent introduction to the Phoenix market for this buyer."
A private investor from Rancho Cucamonga, CA purchased the retail property from a private investor of Peoria, AZ.  Mindy Korth and JK Jackson of Colliers in Arizona handled the real estate transaction.
The Shoppes at Mirador Square includes 48,541 square feet of retail space situated on 5.86 acres of land.  Built in 2004, the property is 100 percent leased by 17 tenants.  The diverse group of tenant businesses include a fitness training facility, ballet convervatory, comedy club, a church, local restaurants, dentist, insurance agent and sewing school.  The well-designed project offers customers generous canopied walkways, convenient parking and easy vehicular access.
The property is located within the award-winning town of Gilbert.  Dense, impressive demographics surround The Shoppes at Mirador Square, offering retailers access to a community with strong household incomes and an educated workforce in an active, growing community.