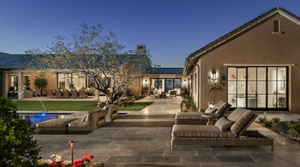 SCOTTSDALE, ARIZ. – Camelot Homes, a third-generation homebuilder in Scottsdale, is holding a grand opening for White Horse, an iconic new community representing the pinnacle of Camelot's 45-plus years of experience in luxury homes.
White Horse is holding an official grand opening on Feb. 21 with more than 200 homeowners and prospects. Three models will be available to tour.
"White Horse is an artistic and soulful community that breaks the bonds of the ordinary," said Cammie Hancock Beckert, managing director of Camelot Homes. "Every Camelot home is built according to the Hancock's highest standards of workmanship, designed to withstand the test of time."
Thirteen of the community's 50 half-acre lots, to be built in two phases, have already been sold. The light, bright and modern homes reflect a true paradigm shift in new home design with more outdoor space, options and flexibility to raise the standard of luxury living. Homes range from 4,000 to 6,000 square feet. The gated community is located off Pima Road and Los Gatos Drive, adjacent to DC Ranch. Homes prices are from the high $1 million.
WHAT: White Horse Grand Opening
WHEN: 4 to 8 p.m. Feb. 21
WHERE: 8865 E. Via Del Sol Drive, Scottsdale (off Pima Road and Los Gatos Drive, adjacent to DC Ranch)
Camelot Homes is one of the oldest, family-owned homebuilders in Arizona. With more than 45 years' experience building thousands of homes in Arizona's finest communities, Camelot Homes has established an unparalleled tradition of home building pride and excellence, and it shows. Three generations of the Hancock family have guided Camelot's growth over the years. From its inception in the 1960's by Maggi and J.W. Hancock, to today's second and third generation of leadership by Mark and Julie Hancock, and Cammie Hancock Beckert, the family continues to carry out the company's formula for success. It's a formula based on a dedication to the customer with an uncompromising emphasis on unique architectural design, details and quality workmanship. Visit www.camelothomes.com.