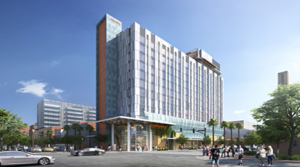 Cushman & Wakefield Negotiates Sale of Remaining 25,000 SF Parcel
PHOENIX, Arizona – Cushman & Wakefield announced that the remaining 25,000-square-foot parcel, part of the mixed-use development at the northeast corner of University Drive and Myrtle Avenue in Tempe, Ariz., sold to Driftwood Acquisitions & Development (DAD) for $5.3 million. The Cushman & Wakefield team of Brent Moser, Mike Sutton and Brooks Griffith represented the original seller, Sundt Construction.
"We appreciated the opportunity to work with Brent, Mike and Brooks. They facilitated this complex transaction that led to a great outcome for both the buyer and the seller," said Larry Pobuda, Senior Vice President & General Manager of OPUS.
DAD plans to build a new Canopy by Hilton to anchor a corner of OPUS' mixed-use development, Union Tempe. The $60 million, 200-room hotel will span 14 floors and feature a lobby-level café, a gym, more than 3,000 sf of meeting space, a rooftop pool and terrace bar, cabanas and a fire pit. Sundt Construction is building the hotel on behalf of DAD and is expected to break ground in May of 2018 with completion slated for December 2019.
At build-out, Union Tempe will also include two residential high-rise apartment towers. The 20-story and 12-story towers will have a total of 407 apartment units and more than 31,000 sf of space for retail and restaurants that will front University Drive. The apartments are scheduled to open to renters in the summer of 2018.
"The Canopy by Hilton will further activate the largest and best thought out mixed-use project currently being built in Tempe," said Brent Moser, Executive Managing Director of Cushman & Wakefield Phoenix.