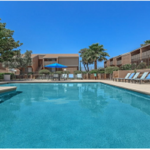 TUCSON, Arizona – Capistrano Apartments at 2929 E 6th Street in Tucson sold for $8.6 million ($76,786 per unit) to Daybreak 112 Partners, LLC and CAP 112 Partners, LLC c/o Scotia Group Management of Tucson (Rob Aronoff, CEO) that will handle the management of property.
The 112-units are mostly studios and 1-bedrooms with an average unit size of 561-square-feet. Built in 1974, the property sits on 3.26 acres at 6th Street and Country Club Road, about one mile from the University of Arizona. The property was 96% occupied when it sold.
Apartment features include air conditioning, paid utilities, balcony on 2nd floor, breakfast bar, cable ready, ceiling fan, dishwasher, gas stove, hardwood floors, pantry, refrigerator and views.
Community amenities include access to public transportation, beautiful landscaping, copy & fax services, disability access, easy access to freeways, easy access to shopping, free pet treats, guest parking, laundry facility, on-call maintenance, pet waste stations, picnic area with barbecues, and swimming pool.
The seller Pimatuc Realty Associates, LP of Phoenix was represented by the Tyler Anderson and Sean Cunningham team of CBRE Multifamily Institutional Properties in Phoenix and Senior Vice President, Michael Sandahl and Martin Encinas with CBRE in Tucson.
For more information, Encinas can be called at 520.323.5173 and Sandahl should be reached at 520.323.5115.
To learn more, see RED Comp #4828.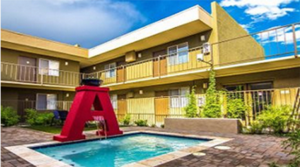 College Town Student Housing at 2040 North First Avenue in Tucson sold to Phoenix investment group, Taylor Fitzpatrick Capital (Ted Taylor, member) for $8.32 million ($94,545 per unit). The investor's plan for the 88-units, value-add property in four buildings, is to completely renovate both interior and exterior.
The property, built in 1972, is ready for updating. Amenities include furnished apartments, electricity, parking, wireless internet, water, and Direct TV, 2 pools, laundry facilities in each building, two study rooms, a fitness center, spa and game room.
Unit mix consists of 2-, 3- and 4-bedrooms. Property was 80% occupied at time of sale.
The seller was MCS711 Arizona Commons, LLC an affiliate of Mica Creek Sagamore Partners of Denver, CO.
The buyer is an experienced student housing investor having built new and remodeled projects at ASU in Phoenix and CSU in Fort Collins, CO. This is the buyer's first project in Tucson and says they like Tucson and are looking for more opportunities such as this.
There were no brokers involved in the sale. To learn more, see RED Comp #4833.