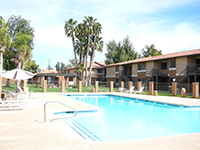 PHOENIX, AZ – Colliers International in Greater Phoenix recently completed the sale of the 436-unit Carleton Club Apartments, a Class B complex in Phoenix, for $22.25 million ($51,032 per unit).

Phoenix-based Bruckal Developments Inc. purchased the complex located at 17425 N. 19th Ave., completed in 1984. The buyer has plans for major renovations in the near future.
The Bruckal Group is a family company working with strategic partners to purchase real estate assets in Canada and the US. We seek equity partners for projects we have sourced and use our expertise to execute the agreed upon investment strategy.
Cindy Cooke, senior executive vice president of Colliers International in Greater Phoenix, and Brad Cooke, vice president of Colliers International, served as the brokers for the seller. The Cooke Multifamily Investments team has represented the seller in more than 20 transactions since 2010.
The buyer was self-represented.
"We overcame the challenge of a submarket in the beginning stages of recovery by personally contacting our key relationships and using our extensive databases to strategically seek investors who typically look for value-add properties in recovering markets," Cindy Cooke said.
With opportunities in multiple markets and countries, it's important for investment firms such as the Bruckal Group to have a knowledgeable and experienced local operator as a partner to ensure a hands on approach to executing project strategies. This allows direct oversight to see that budgets are followed and strategies are implemented successfully. The Bruckal Group provides a partnership with over 55 years of combined experience in construction, due diligence, financing, acquisitions, operation management and asset disposition.  Visit them at www.bruckalgroup.com
To learn more Cindy Cooke can be reached at (602) 222.5039 and Brad Cooke is at (602) 222.5088.