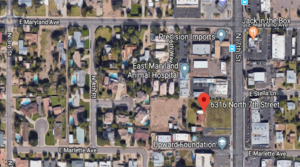 PHOENIX, ARIZONA — The most recent deal of $2.5 million ($30 PSF) at 6316 N. 7th Street located within the "7th Street Urban Corridor" is an 83,235-square-foot parcel slated for Commercial Development.  Aspirant Development was the Buyer and The Zunick Trust was the Seller.
Central Phoenix continues to experience amazing revitalization and significant new development.  This now established infill development corridor uniquely combines increased population and willingness of developers to add significant for sale and for rent housing units.  Currently there are over 10,000 for rent and for sale housing units planned in Central Phoenix.  Cashen is now marketing the popular Camp Social and Hatter and Hare Restaurant buildings investment sale on 7th Street for $6 million.
Cashen Realty Advisors recently was involved in several other infill transactions: 4210 and 4220 N. 32nd Street, 65,340-square-feet for $1,575,000 ($24 PSF); 3102 E. Weldon, 54,014-square-feet for $1,100,000 ($20 PSF); 733 and 719 E. Marlette Avenue, 40,374-square-feet for $1,250,000 ($31 PSF); 4522-4536 N. 7th Street, 16,500-square-feet Building for $2,523,531 ($153 PSF); 3816 N. 7th Street, 22,259-square-feet for $1,013,363 ($45.50 PSF); 1210 E. Indian School, 48,164-square-feet of land for $1,290,000 ($27 PSF).
Cashen still has six additional deals in escrow, all in Central Phoenix, and all scheduled to close within the next four months.  Cashen, a major proponent of infill development, has multiple land parcels available in Central Phoenix.