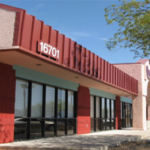 TUCSON, ARIZONA – Catalina Palms Plaza at 16701 N Oracle Road in Catalina, Arizona sold for $1.975 million ($151 PSF) to Jack R Schneider of Severance, Colorado.
The 13,096-square-foot strip center on 2.35 acres is located in the Town of Catalina drawing customers from Oro Valley to Saddlebrook. Oracle Road which is State Highway 77, is a major north and south route heavily traveled with increasing traffic counts.
Property has the potential of 9 units with the largest tenant being Marana Healthcare. There is also a Freedom Smoke, a dentist and a hair salon. Property was 76% occupied at time of sale with 1,000-square-feet vacant that buyer intends to leased to a family member for "Absolutely Art Gallery and Gifts".
Lori Casey and Doug Marsh of Oxford Realty Advisors in Tucson represented the seller, Blue Dahlia Investments LLC of Santa Barbara, CA.
Casey says, "The limited commercial space availability in Catalina made the property particularly attractive. We had it leased quickly and put it on the market to sell in a fairly fluid transaction." There seems to be plenty of buyers for good investment properties these days.
Mark and Janine Irvin with Mark Irvin Commercial Real Estate Services of Tucson represented the buyer.
For more information, Janine and Mark Irvin can be reached at 520.620.1833 and Lori Casey and Doug Marsh should be contacted at 520.232.0200.
To learn more, login and see RED Comp #5103 and go to RED Listing Registry for more properties like this.