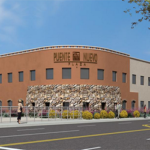 Puente NVA Partners, LLC purchased a 6,000 square foot improved building pad in Puente Nuevo Plaza, 3925 E. Fort Lowell Rd., Units 106 and 107, in Tucson.
The property was purchased from Puente Nuevo Development, LLC for $449,000 ($75 PSF) for construction of a 6,000-square-foot built-to-suit veterinary clinic, Catalina Pet Hospital, that will relocate from 3801 East Fort Lowell, across the street, that was sold recently to QuikTrip for redevelopment.
Rio West Development (Walter Hoger, president) will be finishing a medical office in Puente Nuevo Plaza and then starting the veterinary clinic in another 30-60 days.
Rick Kleiner, MBA, Office Specialist with Cushman & Wakefield | PICOR, represented the seller and Walter Hoge with Sunrise Ridge Realty & Development, LLC, represented the buyer in this transaction.
For more information, Kleiner can be reached at 520.546.2745.
To learn more, see RED Comp #4152.
For related story see Real Estate Daily News August 23, 2016