CBRE: Tucson Office Market Experiences Leasing Slowdown in Q1 2023

Tucson, AZ, April 17, 2023 — CBRE Q1 2023 Office report shows a leasing slowdown, with the direct average asking full-service gross (FSG) lease rate declining to $22.74 in Q1 2023, a 1.9% quarter-over-quarter change. The market experienced 40,055 sq. ft. of leasing activity but 79,963 sq. ft. of negative net absorption in Q1 2023, primarily due to East Central submarket move-outs. Vacancy increased 80 basis points (bps) and remained 380 bps higher than pre-pandemic levels.
The Tucson office market had a leasing slowdown in Q1 2023. The overall negative net absorption was driven primarily by multiple large tenant move-outs, which negated the gross absorption of several smaller new leases—this notably impacted vacancy, which rose to 14.7%, a year-over-year increase of 240 bps. In addition, the average asking FSG lease rate decreased nearly 2.0% from the prior quarter, with Class A and C remaining virtually unchanged. Lastly, no new developments broke ground within the quarter.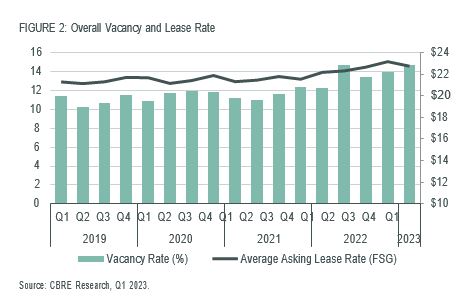 Availability and Vacancy
Office space availability in Tucson increased by 20 bps, reaching 16.0%. The most significant change occurred in the East Central submarket, which had an 80 bps increase in availability, furthering its position as the most available submarket at 25.3%. Other submarkets experienced more minor shifts in availability. The last available submarkets in Q1 2023 were the Downtown and North Central submarkets which finished Q1 2023 at 8.2% and 7.4%, respectively.
Vacancy saw a significant growth of 80 bps market-wide, ending Q1 2023 with a vacancy rate of 14.7%. Much of the rise in vacancy in the first quarter is attributed to already available space being newly vacant. Class A Office space experienced the most substantial shift in vacancy, increasing 160 bps from the previous quarter. Class C recorded a modest increase of 20 bps, while Class B remained unchanged from Q4 2022. The North Central submarket remained one of the most stable and attractive, with 6.6% vacancy.
Lease Rates
The Q1 2023 average asking FSG rate was $22.74 per sq. ft., which represented year-over-year growth of 2.5%. Quarter-over-quarter changes amongst class types were minor, where Class A average asking lease rates slightly declined while other building classes increased. Downtown remained a premier office location with asking rates at $23.64 per sq. ft., followed closely by the North Central submarket with asking rates of $23.64 per sq. ft. On the contrary, the Northeast submarket recorded an asking lease rate of $18.90 per sq. ft., a slight decrease from the quarter prior.
Net Absorption and Leasing Activity
The Tucson office market experienced 79,963 sq. ft. of negative net absorption in Q1 2023. Although the region saw several tenants occupy smaller spaces, these gains were negated by a handful of 10,000+ sq. ft. move-outs. Class A products had 84,618 sq. ft. of negative net absorption, significantly impacting the overall market. Class B recorded positive net absorption of 6,400 sq. ft.
Nearly all submarkets recorded negative net absorption, but East Central comprised the majority with -47,913 sq. ft. due to multiple large tenant move-outs at the Williams Centre II and 4801 E Broadway buildings. In addition, North Central experienced moderate leasing activity, with 23,595 sq. ft. of space leased within the quarter, making space even more limited in the submarket.
Development Activity
Tucson office development continues the trend of no projects breaking ground or delivering in Q1 2023. Rising vacancy and construction costs continue to deter office development. This trend will likely continue as space remains abundantly available, with a lack of tenant demand and interest rates expected to remain elevated into 2024. As CBD submarkets continue to struggle post-pandemic, high-value suburban submarkets like North Central are likely candidates for future planned developments.
Outlook
The Tucson office market shows several positive indicators of an opportunistic future ahead. Tucson remains a headquarter-friendly location due to ample Class A office space and affordable lease rates. The market continues to capture value as a rising technology and life science market bolstered by a strong talent pipeline and favorable operating costs.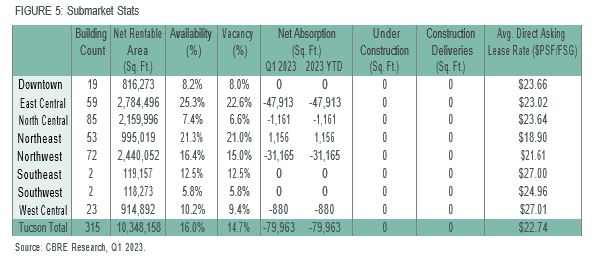 To view the complete report, click here.