America's Rehab Campuses HQ in Tucson Sells for $16.75 Million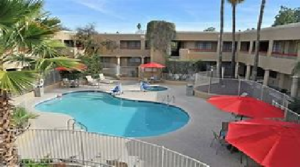 TUCSON, ARIZONA — The property occupied by America's Rehab Campuses, a fully integrated licensed facility designed for dual-diagnosed drug and alcohol substance abuse patients sold for $16.75 million ($303 PSF) in a sale leaseback agreement.
As corporate headquarters, America's Rehab Campuses (ARC) will continue to occupy the entire facility and operate all the rehabilitation care treatments including medical detoxification, residential treatment and out-patient care from the 55,000-square-foot facility at 6944 E Tanque Verde Road in Tucson.
The transaction closed March 2, 2020 and the seller executed a fifteen (15) year absolute NNN lease with two ten-year renewals.
The 2.93-acre property (127,462-square-feet of land area) is zoned C-1 General Commercial, with approximately 411-square-feet of frontage on E Tanque Verde Road.
Property consists of a 2-story wood framed structure, one elevator, and 9 stairwells. Amenities include a fitness facility, private therapy and treatment meeting rooms, social meeting rooms, full service kitchen and dining room, pool/ spa, and outside activity deck.
The investor, STORE Master Funding XVIII, LLC of Scottsale, AZ  is an affiliate of STORE Capital Corporation (NYSE: STOR) one of the largest and fastest-growing net-lease REITs in the United States. STORE Capital is an internally managed net-lease REIT, focused on the acquisition, investment and management of Single Tenant Operational Real Estate. STORE Capital owns a large, well-diversified portfolio that consists of investments having supplied more than $15 billion investments in more than 2,500 property locations, across the United States, substantially all of which are profit centers.
Additional information about STORE Capital can be found on its website at www.storecapital.com or contact 480.256.1153 for broker inquiries.
To learn more, see RED Comp #7626.