Tangerine Crossings – a Diverse Medical / Retail Center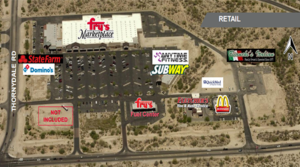 Old Lobos T&T, an affiliate of The Ault Companies (Ron Ault, president), owns the Shoppes at Tangerine Crossings, a Fry's Marketplace anchored center. Located three miles to the east of Dove Mountain master planned community, the center is at the northeast corner of Tangerine and Thornydale Roads in Marana. Ault recently sold a 1.7-acre site there for $1.33 million ($18.90 PSF) to AKDHC Marana Real Estate Holdings for a 13,500-square-foot built-to-suit Arizona Kidney Disease and Hypertension Center.
Ault told us, the AKDHC dialysis center will be directly east from a Northwest Allied QuickMed Urgent Care, an 8,700-square-foot center expected to open in early summer. QuickMed will occupy 6,600-square-feet, leaving 2,100-square-feet available for lease. Construction of the new AKDHC medical building is expected to start in February.
The growth and development of Urgent Care Medicine should be of no surprise to anyone. Fueled by the residential growth in the area and frustration over long waits in the emergency room (for non-emergency care), and a reduction in available primary care appointments, a new growth spurt for the Urgent Care industry began in the mid-1990s and continues today.
The Shoppes at Tangerine Crossings has attracted a rather diverse mixture of medical and retail, tenants such as Fry's Marketplace and fuel center, McDonald's, State Farm, Domino's, AnyTime Fitness, Fletcher's Tire & Auto Service and Bianchi's Italian Restaurant.
Next month, a 1,200-square-foot chiropractic office is scheduled to open in the inline shops west of the 108,000-square-foot Fry's store.
Ault said there is also an Asian Restaurant, DM Bistro, that will open in 3,000-square-feet this March.
Pre-leasing of the remaining pads totals another 15,000-square-feet available at the center.
Aaron LaPrise with Cushman & Wakefield Picor handles leasing there and can be reached at 520.546.2770. Brian Harpel of The Harpel Company in Tucson and Director of Development at The Pederson Group in Phoenix represented the seller in the land transaction and can be reached at 602.265.2888.
For related transaction see Dove Mountain Retail Property Sales Off the Charts This Month.
To learn more see RED Comp #3427.