Highest Price Per SF 2020 Retail Pad Sells at Oracle & Limberlost for a Panda Express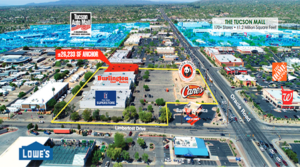 TUCSON, ARIZONA – CFT NV Developments, LLC of Las Vegas, NV (Mickey Wong, Manager) recently purchased a 23,708-square-foot pad at Tucson Fiesta Center, 4241 N Oracle Road in Tucson for $1.68 million ($71 PSF) from EVT Tucson Fiesta, LLC (Jason Eisenberg, Manager).
Located at the northwest corner of Limberlost and Oracle Roads, the site will be used for construction of a 2,300-square-foot Panda Express Restaurant. At $70.86 per square-foot, this is the highest price per square foot sale on a retail pad in 2020 and includes a reciprocal parking agreement with the Center.
The property sold with permits ready to pull with the City of Tucson,  so completion is anticipated for later this year or early 2021.
Ryan Amato with the Eisenberg Company of Phoenix represented the seller and Jesse Peron with CBRE in Tucson represented the buyer.
Other tenants in Tucson Fiesta Center include PGA Golf Superstore, Burlington Coat Factory, and recently constructed Raisin Cane Chicken on an adjoining pad to the Panda express site. Raising Cane is being marketed as an investment sale by the Eisenberg Company. The available 26,233-square-foot anchor space, formerly Border's Book Store, may have an announcement of a new tenant coming soon.
For more information, Amato should be reached at 602.468.6100 and Peron can be contacted at 520.323.5130.
To learn more, see RED Comp #7862.