Tucson Lease Report October 15-19, 2018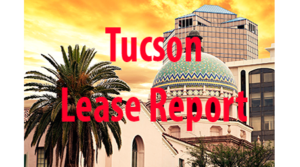 The following commercial leases were reported to the Real Estate Daily News for the Tucson Lease Report from October 15 thru 19, 2018.
INDUSTRIAL – 5460 S. ARCADIA AVE., TUCSON
Innovative Transportation Solutions of Tucson, LLC dba Driver Provider, leased 6,734- square-feet at 5460 S. Arcadia Avenue, Suite 110, Tucson, Arizona.  David Blanchette with NAI Horizon handled this transaction for the landlord.
OFFICE – 2055 W. HOSPITAL DRIVE, TUCSON
Pulmonary Institute of Arizona, PC leased 6,086-square-feet at 2055 W. Hospital Drive, Suite 205, Tucson, Arizona.  Andrew Sternberg with NAI Horizon represented the tenant in this transaction.
RETAIL – 2626 N CAMPBELL AVE., TUCSON
Medicare Health Benefits leased a 2,704-square-foot office space located at 2626 North Campbell Avenue from Campbell Investments, LLC. Jeff Casper of CBRE's Tucson Office represented the landlord and RE/MAX Commercial represented the tenant.
RETAIL – 11143 N. LA CANADA DR., ORO VALLEY
Sunrise Dental Equipment Sales and Services signed a lease for 1,310-square-feet at 11143 N. La Canada, Suite 101, in Oro Valley Center located south of the southwest corner of La Canada Drive and Naranja Drive, Oro Valley, AZ. Sunrise Dental Equipment Sales and Services was founded in 2008. They opened their new office September 15, 2018.  Craig Finfrock of Commercial Retail Advisors, LLC represented the landlord, W.J. Choi, LLC, and the tenant represented itself in this transaction.
RETAIL – 4951 E. GRANT RD., TUCSON
Staffing Solutions Southwest, Inc., a Georgia Corporation, leased a 1,093-square-foot retail space at Crossroads East Shopping Center, relocating the EmployBridge office to 4951 East Grant Road, #105. CBRE's Nancy McClure of CBRE's Tucson Office represented the landlord and Swearingen Realty Group, LLC, Dallas, Texas represented the tenant. EmployBridge is a workforce specialist staffing agency, opening their new location in early 2019. T
OFFICE – 921 S. CRAYCROFT RD., TUCSON
The Arizona Democratic Party has leased approximately 1,000-square-feet at 921 S Craycroft Rd. Tucson, AZ 85711. Juan Pantoja from Grimm Commercial, LLC represented the Landlord in this transaction.