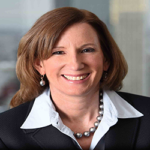 TUCSON, Arizona – Cathy Engelbert, CEO of Deloitte, was recently recognized as the 2017 University of Arizona Executive of the Year at Loews Ventana Canyon Resort in Tucson with over 400 leaders from the community in attendance.
"Cathy Engelbert's career trajectory has been remarkable," said UA Eller College Dean Paulo Goes. "Not only did she become the first female CEO of one of the big four accounting and consulting firms, she changed Deloitte's corporate culture to emphasize the importance of mentorship, inclusion, and work-life balance."
What can other leaders learn from this Executive of the Year?
Here are 5 amazing lessons from her speech at the event, themed "Leadership Is A Team Sport":
If you Get the small things right – the Big things come easier. Being a leader and developing leadership skills is learned. Building trust is the starting point, including trusting yourself.
Don't wait until you are perfect to start. Fear of failure is one of the biggest impediments we face. Leaders learn to ask themselves a powerful question, "What can I learn from this experience" with a "can do" attitude. Do something to build your capabilities, stretching confidence is not linear.
Be Your Best. Doing your best is a daily decision. It's about challenging yourself even in your darkest moments to be your best. It's easy to be average. It takes effort to do your best every day.
People first then tasks. In a service business such as Deloitte, people are the R&D of the company. Research other motivated people to Develop and become your replacement.
Never graduate. There will always be shifts in the marketplace and the future is unknown. Robots and artificial intelligence may replace many jobs. Some skills will become less valuable, while others become more valuable. View life as a series of upgrades, always continue to upgrade yourself.
In conclusion, Engelbert says to remember UAZ, as more than University of Arizona. "U" for "unrelenting"; "A" for "aspire" to lead; and "Z" for having the "zeal".
Engelbert, in charge of leading nearly 80,000 professionals who provide audit, tax, consulting and advisory services to more than 80 percent of the Fortune 500 companies, spent more than three decades working with large and complex global clients.
In addition to leading Deloitte, Engelbert is chairman of the Center for Audit Quality Governing Board and was recognized as one of Fortune's 2016 and 2015 Most Powerful Women. She was ranked as one of Glassdoor's 2016 Employees' Choice Awards for the 50 Highest Rated CEOs, and among Crain's 50 Most Powerful Women in New York in 2015.
The University of Arizona Executive of the Year program was established by the Eller College National Board of Advisors in 1983 to honor individuals who exemplify executive qualities in private enterprise and public service. Recent honorees include Frederick W. Smith, chairman, CEO and founder of FedEx (2016); Sam Fox, CEO and founder of Fox Restaurant Concepts (2015); Janet Napolitano, former U.S. Secretary of Homeland Security and former Arizona Governor (2014); Larry Baer, president and CEO of the San Francisco Giants (2013); former U.S. Secretary of Defense Robert Gates (2012); and Starbucks CEO Howard Schultz (2011).