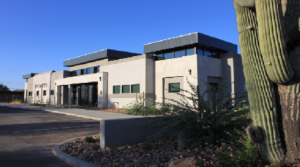 TUCSON, ARIZONA -- Caylor Design and Construction has completed work on a striking new 14,000 square-foot state-of-the-art medical office and ambulatory surgery center for Arizona Vascular Specialists at 6442 E Speedway Blvd. in Tucson.
Arizona Vascular Specialists (AZVS) purchased the property in 2018, and the new AZVS Surgery and Medical Center broke ground in August 2019. The building permit was for $1.4 million. The rezoning of two sizable residential lots totaling 55,516-square-feet for this project on east Speedway paved the way for the design and construction of this beautiful new facility housing medical offices, nursing bays, recovery suites and medical support space.
"Being involved from the beginning" Caylor Design began with the rezoning of the property and the creation of a development plan maximizing the use and function of the site. Helping to select both the architect and civil engineer made the entire construction process especially efficient.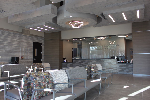 "We were also treated to working with the interior designer, Lori Carroll, who is as talented as she is easy to work with." said Rob Caylor. "Lori defined a space that is truly second to none, with finishes that were tasteful yet dramatically impactful."
Arizona Vascular Specialists is a group of highly specialized vascular surgeons providing patients with the highest quality care.  Board-certified, fellowship-trained surgeons of AZVS are regarded as some of the most trusted and reliable specialists in southern Arizona. AZVS lab is AAAHC accredited and has carefully selected a staff of individuals who are dedicated to providing you with the best patient experience. AZVS's professionalism and attention to detail shines through in all that they do.
​With AZVS innovative treatment methods, its surgeons have dedicated their careers to the prevention and treatment of peripheral artery disease (PAD), aneurysm repair(AAA), carotid artery disease (CAD), venous disease, and varicose veins. AZVS also help people with critical limb ischemia (CLI) who are at risk of losing a limb due to poor circulation.