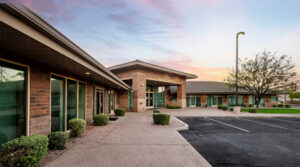 PHOENIX – February 2, 2023 – CBRE arranged the $2.75 million sale of 2120 South McClintock Drive, a 9,463-sq.-ft.-office building in Tempe, to a private buyer. The building is located south of East Broadway Road on the corner of South McClintock Drive and East El Parquet Drive.
The property was owned and fully occupied by a local behavioral health clinic, Crisis Prep and Recovery, Inc., who leased the property for 15 years upon closing.
The single-tenant building is located minutes from downtown Tempe and Arizona State University. Built in 1998, the building features office, medical rooms and lab space. Accessible by South McClintock Drive, the property has 30 surface parking spaces and 15 covered spaces on its nearly one-acres site.
Geoffrey Turbow, Gary Cornish, Bryan Johnson and Nick Williams of CBRE's Private Capital Partners represented the  private seller in the transaction. The buyer was an out-of-state buyer completing a 1031 exchange.
"We are extremely satisfied with the outcome of this transaction, which unlocked working capital for the seller as it continues to operate its business from this location under attractive terms," said Mr. Turbow. "The buyer, for its part, acquired a mission-critical asset with high passive income."
The Tempe submarket has some of the lowest vacancy rates in the Phoenix area. According to CBRE research, smaller office buildings in Tempe are in high demand. Single-tenant office buildings are especially desirable, with a 1% vacancy rate for properties of 5,000 to 20,000 sq. ft.