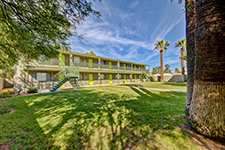 Phoenix, AZ – CBRE negotiated the following two multi-family sales transactions:
Phoenix Fund IPIRG, LLC from San Diego, California has purchased Osborn Place apartment complex, a 30-unit, multi-family property located at 1414 East Osborn Place in Phoenix, Ariz. from EQ Downtown, LLC of Tempe, Ariz. Brian Smuckler and Jeff Seaman of CBRE's Phoenix office represented both buyer and the seller in negotiating the $1.83 million ($61,000 per unit) transaction.
Chen Development Group from Daly City, Calif. has purchased the 6 Palms apartment complex, a 35-unit multi-family property located at 2522 West Highland Avenue in Phoenix, Ariz., from Blaine, Wash.-based JL Investing, LLC. Brian Smuckler and Jeff Seaman of CBRE's Phoenix office represented the seller in negotiating the $1,075,000 ($30,714 per unit).
 * * * * *
Phoenix, AZ  - Colliers International in Greater Phoenix, in conjunction with Colliers' office in Albuquerque, recently completed the sale of Silverado, a 256-unit Class A multifamily complex in Albuquerque, New Mexico, which is the latest transaction stemming from a re-branding of the Colliers HSK Multifamily Southwest Team.

Clear Sky Capital Inc. of Phoenix purchased the property, at 5741 Osuna Road Northeast, from First Pacific of San Francisco. The list price was $20.5 million ($80,078 per unit); however, the closing price is being held as confidential.
Silverado was built in 1985; the 183,656-square-foot complex has 13 three-story buildings situated on just over eight acres of land. The unit mix is 72 one bed/one bath (539 sf), 108 one bed/one bath (669 sf), 36 two bed/two bath (880 sf), 36 two bed/two bath (1000 sf) and four three bed/2bath (1229 sf) units.
The apartments feature walk-in closets, extra storage areas, and private balconies or patios. Community amenities include a spa, fitness center, two heated pools, sand volleyball court, business center with free Wi-Fi and printing, and two clothes care centers. Silverado offers a private entrance with limited access entry and provides a courtesy patrol.
The apartments are located on Osuna Road near San Mateo Boulevard in the prestigious Northeast Heights submarket, which is a major north-south thoroughfare lined with retail and service centers, and restaurants. Silverado has direct access to I-25.
The pedestrian-friendly Uptown Shopping Center is three miles south
The transaction was brokered by Colliers International's HSK Multifamily Team, led by Bill Hahn, Jeffrey Sherman, and Trevor Koskovich, senior vice presidents in the Phoenix office, with Cynthia Meister, associate broker in Colliers' office in Albuquerque.
HSK Multifamily Southwest has been branching out to other states since late 2013, having completed a handful of sales in Las Vegas, El Paso and now Albuquerque. This expansion included adding a team member, Meister, who is the point person for the New Mexico market. The team presently has two listings in Albuquerque and a portfolio in West Texas.
of the complex. Additional shopping options include the Far North Shopping Center, Fiesta Square Shopping Center, Montgomery Plaza, and Coronado Center. Silverado is also near major employment centers, such as the Journal Center, Intel, Lovelace Health System, University of New Mexico, Kirtland AFB, and downtown Albuquerque.
The property is less than a mile west of Arroyo Del Oso Park and Golf Course. Further recreational opportunities are in the offing, as the City of Albuquerque is implementing a plan to support multi-use trail and bikeway networks for commuting and recreational uses.

"This is an excellent value-added property with a strong rental upside through interior upgrades and the addition of landlord owned in-suite washer, dryer appliances," said Meister, adding, "The submarket occupancy and rents allow for improved performance."
Colliers HSK Multifamily Southwest uses the extensive resources of Colliers International to assist in debt placement, investment sales, and appraisal services. The team achieves a high market share of B and C-quality multifamily asset sales by ensuring strong and efficient systems are in place for the marketing, acquisition, and disposition of properties. This superior service makes Colliers HSK Multifamily Southwest a leader in Arizona, New Mexico, Nevada, and Texas.