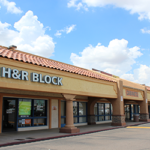 Phoenix, AZ – CBRE has completed the sale of Cave Creek Plaza, a 21,219 sq. ft. retail shopping center located at 16806-16872 N. Cave Creek Road & 2301-2313 E. Bell Road in Phoenix, Arizona. The buyer was DMC Investments, LLC. The seller was PWDAF Bell and Cave Creek, LLC.  Jesse Goldsmith and Steve Julius with CBRE's Phoenix office represented the seller in this transaction. Total consideration for the deal was $2.55 million.
"Bell and Cave Creek Plaza was in high demand by buyers because of its low price per foot, fair rental rates, and good cash flow," said CBRE's Julius. "With the high traffic and dense population, this will be a good long-term investment." 
Originally constructed in 1978, Cave Creek Plaza is shadow-anchored by a successful 99 Cent Only store. The retail center is also neighbors to Home Depot via two adjacent parking lots. Additionally, low rents and varied lease terms presented an opportunity for long-term revenue growth at this location.