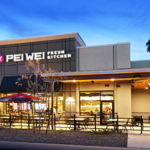 PHOENIX, Arizona – CBRE has completed the sale of a new Pei Wei ground-lease located at 10450 North 28th Dr. in a dense infill area of Phoenix.
The 3,100-square-foot retail property is home to Pei Wei's new prototype restaurant, which opened in December 2015. The restaurant commanded a sale price of $2.8 million or $903 per-square-foot, which equates to a market leading 4.76% cap rate.
Andrew K. Fosberg and Joseph R. Compagno with CBRE's Phoenix office represented the seller, SWC 28th And Peoria Investors, LLC, an affiliate of Arizona-based A & C Properties, Inc (Joseph Cattaneo, principal).
"The combination of a long-term lease with Arizona-based Pei Wei Asian Diner, coupled with its location adjacent to Metro Towne Center, a thriving shopping center anchored by Ross, dd's Discounts, Petsmart and Big 5 Sporting Goods, created significant investor interest and resulted in the market setting cap rate," said CBRE's Fosberg.
Ignacio Diaz Jr. of Investment Capital Real Estate represented the buyer, The Price-McPherson Trust.