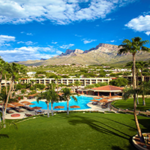 Tucson, Ariz. – CBRE has completed the sale of the Hilton El Conquistador Golf & Tennis Resort and the El Conquistador Country Club located in Tucson, Ariz. We first reported this sale on December 23, 2014 however, new information has come to our attention. The asset is situated on two separate parcels totaling approximately 383-acres and 345,332-square-feet of improvements sold for $15 million.
The CBRE Hotels' team who negotiated the transaction on behalf of the seller, New York City-based MetLife, consisted of Jerry Hawkins in Tucson, Ariz.; S. Douglas Henkel in Norfolk, Va.; Lewis C. Miller in Atlanta, Ga.; Andy Wimsatt in Washington, D.C. and Jeff Woolson in Carlsbad, Calif. The buyer was Tucson, Ariz.-based HSL Properties.
Hawkins noted, "CBRE Hotels was pleased to represent MetLife in the disposition of this resort. The property was purchased by a local owner, HSL, who will bring a unique perspective to the Tucson resort market."
HSL Properties has announced plans for $16 million in rehabilitation and capital improvements on the hotel portion of the property. The rehab work is slated to take place over the next 12 to 18 months, with most of the work happening in the slower summer months. HSL has also started the process to split off the resort's country club and 45-hole golf course. The town of Oro Valley will purchase those assets plans to turn the 31,475-square-foot club building into a community center and contract out the golf course operations. HSL hopes to finalize that sale by March 1.
Originally built as a Sheraton Resort in 1982, the property was Tucson's first major resort with more than 250 rooms on the original 121-acre site. The property was repositioned to its present Hilton affiliation in 2003. Today the 432-room Resort and Country Club benefit from over 100,000 square feet of indoor and outdoor event space as well as a shared synergy as Tucson's largest golf and tennis facility with 45 holes of premier golf and 31 hard-surface tennis courts, collectively. Additionally, the property includes approximately 18 acres of developable land on Oracle Road.
CBRE Hotels is a specialized advisory group within CBRE providing brokerage, valuation and capital markets services to companies in the hotel sector. CBRE Hotels is comprised of over 150 dedicated hospitality professionals located in 37 offices across the globe. For more information, please visit our website at www.cbrehotels.com.