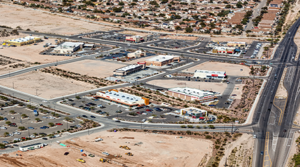 Tucson, AZ – Las Plazas at Old Vail, a 17-acre retail development at the northwest corner of Houghton and Old Vail Roads in Southeast Tucson, has landed a full-service Mexican restaurant to complement the line-up of other quality food offerings.
El Arado, LLC purchased a 0.89-acre retail pad and will begin construction this quarter. Nancy McClure and Michael Laatsch with CBRE's Tucson office negotiated the transactions on behalf of the seller, OVP Development Company, LLC. The buyer, El Arado, LLC, which owns and operates Rancho Rustico, was represented by Fred Wang. The purchase price was $610,000.
"The purchase of this prime lot at Las Plazas at Old Vail confirms there is significant pent-up demand for retail and restaurant options in this underserved area. The surrounding neighborhood residents have expressed a desire for additional retail and restaurant options and users have taken notice," said McClure. "This is a high-density residential area is well equipped to handle additional retail amenities and these transactions are just the tip of the iceberg."
Las Plazas at Old Vail is designed to accommodate retail, office and industrial users. The site is approximately a mile and a half from the I-10 freeway, just south of the Rita Ranch master-planned community.