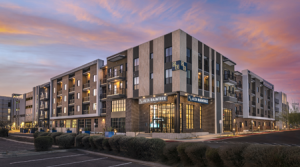 The Connor Group Enters Phoenix Market with North Scottsdale Acquisition
PHOENIX – July 5, 2023 – CBRE negotiated the sale of the luxury multifamily community, The Aston Scottsdale, to The Connor Group for an undisclosed amount. CBRE's Asher Gunter, Matt Pesch, Sean Cunningham, and Austin Groen represented the seller, Wood Partners.
Previously known as Alta Raintree, the 330-unit property at 8688 East Raintree Drive in Scottsdale features best-in-class finishes, modern design units, and amenities, including a resident clubhouse, a state-of-the-art fitness center, and a pool area.
"This is a significant transaction in Phoenix this year and is a strong indicator of the market's desirability," said Mr. Gunter, CBRE's Vice Chairman. "Not only is Phoenix a growing market based on recent population and job growth statistics, the multifamily fundamentals in the area, particularly in Scottsdale, are excellent as well.  We are pleased to help The Connor Group enter the market during a challenging time."
Based in Ohio, this is the first multifamily community The Connor Group has acquired in the Phoenix metro. The company has over $4 billion in assets and operates in 18 markets nationwide.
"We're incredibly enthusiastic about the opportunities that are emerging for our investors and associates in the Phoenix market," said The Connor Group's managing partner, Larry Connor. "When we enter a new market, it's for the long-term. We have specific criteria a city must meet. Phoenix is a thriving city; this market checked all the boxes for us."
Wood Partners is a national leader in developing, constructing, and managing multifamily communities across the country. The company has acquired and developed nearly 90,000 conventional multifamily homes with a combined capitalization of $17.3 billion. The company owns over 70 properties across the U.S., representing over 20,000 homes. Headquartered in Atlanta, Wood Partners has offices in 22 major markets across 15 states.