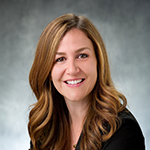 Alex Hardie joins industry veteran, Buzz Isaacson, in Advisory & Transaction Services as Associate
TUCSON, Arizona – CBRE announced today that Alex Hardie, Sales Manager for CBRE's Tucson office, has transitioned into a brokerage position with CBRE Advisory & Transaction Services.
In her new role, Hardie will work closely with Buzz Isaacson, a local market expert with more than 35 years' experience in the leasing and sale of office and medical properties.
"We are thrilled that Alex has taken an interest in brokerage and has joined Buzz serving the Tucson office market," said Ike Isaacson, Managing Director for CBRE Advisory & Transaction Services in Arizona. "Her local market expertise, coupled with her background in finance and operations will undoubtedly lend to great outcomes for our clients. Additionally, Alex coming aboard Tucson's Advisory & Transaction Services underscores CBRE's commitment in continuing to diversify its team of leading real estate professionals."
Hardie holds a degree in business management from Northern Arizona University and spent 11 years with multifamily housing company Trinity Management. Prior to joining CBRE in March 2017, she served as Director of Property Management for the company, overseeing the financial and operational performance of their 11-community portfolio.