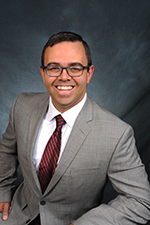 PHOENIX, Arizona — CBRE announced that Dominigos Santos has joined Valuation & Advisory Services (VAS) as a director with the Property & Transaction Tax Services platform.
Based in CBRE's Phoenix office, Santos will advise real estate private equity firms and development companies on underwriting best practices, identifying and securing tax incentives, and minimizing annual sales, use, excise, and property tax obligations.
Prior to joining CBRE, Santos was the Real Estate Tax Director for a prominent real estate private equity firm. He began his career as a deputy county attorney advising the fourth most populous county in the U.S. on property tax issues and has also served in consulting roles with nationwide tax consulting companies, where he advised public and private companies on tax minimization strategies.
"Domingos is one of the leading property tax professionals in Arizona and throughout the West, and we are very fortunate to have him as part of our team," said Mark Whitney, national director, CBRE's Property & Transaction Tax Services. "His legal background and experience in delivering services for private equity firms will deepen our team's abilities to serve clients in Arizona and throughout the U.S."
Santos earned a bachelor of science degree in business administration with a concentration in finance from Salem University. He also earned a juris doctor degree from New England Law.