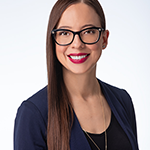 TUCSON, Arizona – CBRE announced that Alex Demeroutis has joined CBRE's Tucson office as Associate with Advisory and Transaction services, Industrial & Logistics. Partnering with Jesse Blum, Ms. Demeroutis will specialize in the sale and lease of industrial properties used for manufacturing, warehousing and distribution, back office, and research and development.
Ms. Demeroutis comes to CBRE from the Greater Oro Valley Chamber of Commerce where she was Vice President and Events Director. In her role, she was responsible for working alongside the board of directors to execute the Chamber's strategic plans; overseeing networking and fundraising activities, partnering with town officials on initiatives to grow the community; membership recruitment and retention; and distribution of weekly digital communications. During her seven-and-a-half year tenure at the Greater Oro Valley Chamber, she and her team built operating reserves, increased net membership by 200 members.
"CBRE Tucson is very excited to welcome Alex Demeroutis to our team. She possesses an outstanding skillset and professional experience in the Tucson business community. She will be a vital asset for Jesse Blum's Industrial and Logistics Team."- Matt Siegel, CBRE Tucson's Managing Director and Market Leader.