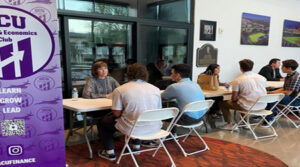 PHOENIX, ARIZ. (Nov. 7, 2022) – More than 40 students attended the second annual CCIM/GCU mentorship speed networking event held recently at the Colangelo College of Business at Grand Canyon University.
CCIM Central Arizona Chapter mentors and GCU Finance Club members connected on all aspects of the commercial real estate industry.
Chapter mentors included Jenette Bennett, CCIM, Kidder Mathews, Mentorship Chair; Emily Earnst, Kidder Mathews; Todd Hamilton, CCIM, SIOR, Citywide Commercial, Chapter President; Sheila Long, Old Republic Exchange Company, Board Member; Eli Mastracci, Phoenix West Commercial, Board Member; Andrew Platt, Commonwealth National Commercial Services; Belinda Rosthenhausler CDC Small Business Finance, Board Member; Brian Teske, Casita Capital Realty, Chapter Vice President; and Rachael Thompson, Kidder Mathews.
Representing GCU were faculty member Alan Klibanoff and Finance Club President Riley McCaughn.
Proceeds from the chapter's upcoming Par Tee on the Green fund GCU scholarships for Institute Ward Center courses.
The Central Arizona chapter of CCIM, commercial real estate's global standard for professional achievement, in 2019 launched its first session of a mentorship program for undergraduates attending the Colangelo College of Business at Grand Canyon University.
The goal is to connect students with commercial real estate executives. Mentoring activities over the fall semester at GCU include reviewing property information for analysis, students creating and presenting a broker opinion of value, listing pitches and sales offering memorandum and attending both the chapter's annual golf fundraiser and holiday party.
"We are pleased to continue the chapter's university outreach program with such a partner as GCU's Colangelo College of Business. From the highest level of faculty to student participation, the university is committed to finding the best industry connections and career opportunities for their graduates," Bennett said. "As a mentor, there's nothing more rewarding than seeing our mentees get hired and close transactions. The chapter is privileged to be that facilitator for all aspects of Arizona commercial real estate and look forward to future years of growing the program together."
The CCIM Institute confers the Certified Commercial Investment Member designation. To earn the CCIM designation, commercial real estate professionals must complete more than 160 hours of case-study driven education covering topics such as interest-based negotiation, financial analysis, market analysis, user decision analysis, investment analysis, and ethics in commercial investment real estate.
Candidates must also compile a portfolio demonstrating the depth of their commercial real estate experience and pass a comprehensive examination. Learn more about CCIM Central Arizona Chapter: centralazccimchapter.com.