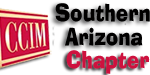 The Metropolitan Pima Alliance (MPA) honored the CCIM Southern Arizona Chapter with the prestigious Community Engagement Award recently. MPA is a land use, real estate and economic development advocacy organization that supports and encourages positive, and collaborative processes in Pima County, and is a community leader in finding common ground between members of the development community with those in the public sector.
This year the CCIM Southern Arizona Chapter was awarded the special Community Engagement Award for its work as a founding member of the Pima County Metal Watch Task Force which resulted in a public relations program being designed to educate businesses, property owners, law enforcement, municipalities and legislators to the multi-million dollar metal theft problem. Jason Wong, CCIM, with Red Point Development of Tucson, and who initiated the task force, accepted the award on behalf of the local CCIM chapter.
The Metal Watch Task Force has been a community wide effort at the forefront of the battle on copper and metal theft. With more than a dozen organizations and local governments united, the Metal Watch Task Force has over 100 active participants with the goal of mitigating, preventing and combatting the negative economic and personal impact copper theft has on our community. Here's some stats on metal theft in our area:
Tucson – 216 reported metal thefts Jan-May 2012
Tucson – $2 million in reported DAMAGES
14 area parks and recreation facilities
Tucson Water backflow assemblies, water box covers
Phoenix – over 3,000 AC units stolen last year (2011)
Phoenix – Damage from metal theft totaled over $30 Million
State wide damages over $120 million
U.S. Dept of Energy estimates copper theft costs $1 Billion a year
Within 12 months of organizing this task force, legislation was passed imposing stricter reporting and bookkeeping requirements for recyclers and stiffer penalties added with three new laws passed at the state legislature:
HB 2262: Requires scrap metal dealers to register with the Arizona Department of Public Safety and review information on stolen scrap metal DPS shares via a website.
SB 1107: Expands the definition of theft to include ferrous and non-ferrous metals.
HB 2386: Modified the definition of criminal damage to include tampering with a public utility to obtain scrap metal.
CCIM was launched in 1954 as the Investment Property Exchange and Taxation amid a very different world of commercial real estate, today's CCIM has evolved along with the industry. Its designees, which now number more than 15,000 globally, have brought the institute's combination of course mastery and practical application to disciplines ranging from brokerage to lending, and more recently community advocacy. The CCIM Southern Arizona Chapter is a group of approximately 150 members locally.
For more information on Southern Arizona CCIM Chapter click here and for more information on the MPA Metal Watch Task Force click here.