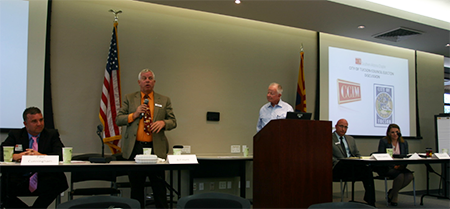 The Southern Arizona CCIM Chapter hosted a debate for Tucson City Council candidates Tuesday at its regular luncheon meeting to a sold out crowd. Unfortunately, incumbents Regina Romero and Shirley Scott did not attend, Scott excused herself with an unexpected medical emergency and Romero was expected, but did not attend. Participants were Paul Cunningham, Bill Hunt, Kelly Lawton and Margaret Burkholder.
George Larsen, CCIM, of Larsen Baker in Tucson was moderator of the debate. Questions had been submitted in advance by CCIM members.
Paul Cunningham, Ward 2 – the lone incumbent among the four candidates on the stage received high praise for showing up to listen and answer questions of concern to the business community represented by CCIM.
Cunningham spoke with pride about the successes for the city over the past four years, including 350 miles of road repaving and two of the past six months, signs of job growth in the City.
His challenger in Ward 2, Kelly Lawton says the City isn't doing enough, and spoke of Tucson still being the fifth poorest city of its size in the nation, with a less the 1% growth rate. Whether it was a question on what to do with the homeless downtown, or keeping our young people here, the answer was the same – "more jobs in Tucson".
Lawton says, "The City needs better management, from business licensing to certificates of occupancy, the City is not consistent or proactive in soliciting businesses to come here."
Cunningham said, "The City has taken steps to be more business-friendly and issues Certificate of Occupancy permits in 45-days." The Mayor and council have passed 21 different ordinances for the Aero Tech Park, including Raytheon, and 16 different incentive programs to attract businesses, according to Cunningham. He added, "Philosophical and cultural changes within the City take longer."
Bill Hunt running in Ward 1, is a veteran and a pilot had no opponent there to debate. Hunt spoke about the lukewarm support the Council has given to Davis Monthan, and calls DMAFB a benefit not only to our region but to our country. Whether it be the A10, A35 or KC135 flying out of DM, the community needs to be proactively supporting this major benefit to our community.
Margaret Burkholder also spoke of the importance of DM being part of Ward 4. Burkholder said, "There was a $120,000 study done to study the economic impact of DM on our community and Shirley Scott was quoted in the Arizona Daily Star as having not read it." "According to the study, $1.5 billion is generated annually by Davis Monthan in our community. If DM were to leave, can anyone imagine what the economic impact would be, what would happen to our home values?"
One of the final questions was asked to each candidate, 'how they would specifically create jobs?'
Burkholder said, "Business development rules need to be consistent and council members should not be micromanaging development services. Follow the same rules for everyone and build a staff that does their job regardless of Ward council member or staffer involved." We need courageous leaders with experience to get the job done for our City. Burkholder believes she has shown by her actions on the Vail School Board that she is that person.
Lawton agreed with Burkholder and added, "Tucson needs to change the perception that it is business unfriendly." Right now our biggest export is 'educated people'. The City of Tucson should be partnering with job creators to keep these young people here. Moody and Finch downgrading the City due to transit spending, as was sited specifically in the downgrade, is unacceptable.
Hunt concluded that his experience in the military and other leadership positions make him uniquely suited for his City Council seat. He doesn't consider himself a politician and would be ready to make the tough decisions Tucson faces for fiscal responsibility. Businesses pay taxes, and the City must be sure our businesses flourish here.
Cunningham talked about what businesses he saw missing in Tucson, and a regional Telecom company and more fulfillment centers came to mind for long-term job creation. He added that if a regional telecom would come to Tucson, he could see incentivizing it with the City cell phone contract for all the City departments, including police and fire.
In two lightening rounds of questions, candidates were asked to give only a 'yes' or 'no' response.
#1 Were they in favor of term limits? All responded with 'yes', except Burkholder who said 'no'.
#2 Were the candidates in favor of Rosemont Mine opening? All responded 'yes', except Cunningham who said 'no'.