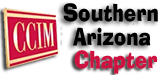 The last quarter of 2013 for the commercial real estate investment market set the pace and tone for 2014, according to recent data collected from CCIM members nationwide. The local Southern Arizona CCIM Chapter will be giving their predictions on February 11th at the 2014 Market Forecast to be held at the University Marriott. There local commercial real estate brokers, lenders and appraisers specializing in the office, retail, multifamily, land and industrial and financing sectors will offer thoughts, insights and opinion for 2014.
This year's keynote speaker will be the Honorable Jonathan Rothchild, Mayor of the City or Tucson.
Continuing a local CCIM tradition, two more of Tucson's Commercial Real Estate Legends will be honored. Jim Marian and George Larsen founded the tradition to give special recognition to the pioneers, visionaries, contributors, gamblers and risk takers who have helped shape our local market. This year's inductees into Tucson Legends will be John and Helen Murphey, along with David and George Mehl.
Go here to register for the Feb 11th Forecast Meeting Registration.
Nationally, nearly 60 percent of CCIM Institute's membership indicated they experienced more transactions in 4Q13 than the same period the prior year, in the organization's 4Q13 Quarterly Market Trends report.
The report, which features data collected from CCIM members nationwide and is conducted in conjunction with the National Association of Realtors®, also shows that 61 percent of respondents received more serious inquiries related to buying commercial real estate. Property sectors that saw the most deal activity included:
Hospitality: 75 percent of CCIM's saw an increase in deals with hospitality properties
Office: 64 percent of CCIM's saw greater deal flow in the office sector
Industrial and Multifamily: 56 percent of members who work with industrial and apartment properties saw a rise in deals
Retail: 51 percent of CCIM's in the retail sector saw an increased deal volume
Higher rents were also reported with 48 percent of CCIM's indicating they are observing higher rental rates across all property types over the same period last year, and 35 percent of members experienced similar rents year over year. Almost half (45 percent) of respondents expect rents and prices to move together in the next one to three years with 23 percent predicting rent growth will outpace price growth and 32 percent indicating the opposite, with prices expected to outperform rents.
The complete report of CCIM national findings can be found HERE.