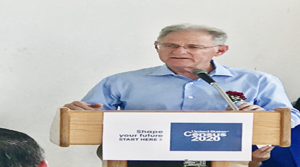 Census 2020 Office located at 3989 E. Grant Road in the Northgate Shopping Center, Tucson

TUCSON, ARIZONA -- The Census office in Tucson has officially opening and it held a Grand Opening Ceremony featuring Mayor Jonathan Rothschild; Pima County Board of Supervisors Chairman, Richard Elias; Graham Co. Board of Supervisors Chair, Paul David; and Jerome Garza, Assistant Regional Census Manager, Denver Region.
Mayor Rothschild urged everyone in their respective communities and spheres of influence to have people participate in the Census 2020 and  get counted as it helps Tucson get appropriate Federal tax dollars and to trust the Census since all info is kept confidential for 75 years.  He cited that it has been viewed in the past that Tucson's Census counts are not always counting everyone who resides in the metro area.  He stated, "It doesn't matter if you are a citizen—if you reside in the community, get counted in the Census."  He further applauded the Census's choice of location and said "they could not have chosen a better location in Tucson!"
A color guard, Native American blessing, and Sound of Thunder Korean Dance and Drum Mariachi Herradura performed at the end of the program. It was a very diverse cross-cultural audience with a variety of new media in attendance.
The office is looking to hire immediately and interested applicants can go to:  www. https://2020census.gov/en/jobs .  The office is conveniently located along major bus routes.
The Tucson location is one of six new offices in the state.