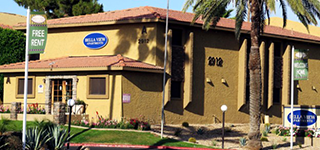 PHOENIX, AZ – A 355-unit, Central Phoenix apartment community at 2912 E. Indian School Rd., Phoenix, sold for $12.5 million ($35,211 per door).
Lee & Associates Principal Todd Braun and associate Will Barnard represented the buyer, SPL Real Estate & Management Co. of Denver, CO. Karl Abert of Newmark Grubb Knight Frank represented the seller, Bella View Apartments, LLC of Scottsdale.
Bella View Apartments, built in 1979, is situated on 7.92 acres. It features four, 3-story buildings of studio and one bedroom units. The community features four pools, spa, tennis and basketball courts, picnic areas with BBQs and laundry facilities.
"BellaView Apartments LLC did an excellent job of repositioning this property over the last few years. When they acquired Bella View in 2011 (then called Brandywood) from an out-of-state lender, the community had signifi cant vacancy and deferred maintenance," Braun said.
"The new owner, SPL Management, has an exciting plan to further enhance the asset to attract higher demographic tenants. They will be upgrading both the exterior design and amenities as well as elevating the interior features to a level that will compete with many of the luxury communities in the area. SPL was attracted to the property due to its compelling location; close to the Camelback Corridor, Biltmore Fashion Park and immediately next to a Sprout's-anchored shopping center. SPL has renamed the apartment community The Standard at 29th," Braun added.
To learn more Braun can be reached at 602.474.9550 and Barnard is at 602.912.3521.