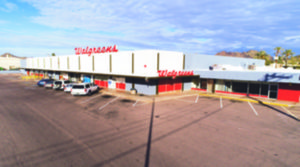 Redevelopment Opportunity Positioned in Regentrifying Neighborhood
Phoenix, Arizona – The Walgreens Center at 8905 N. 7th St. in North Central Phoenix has been sold for $3.3 million ($86 PSF).  The redevelopment opportunity was purchased by Capital Development Group and its partner Rhapsody Ventures of Phoenix.
"We brought this asset to market as a unique modernization opportunity in a neighborhood that has recently undergone a noteworthy renaissance," says John Jackson, associate vice president of Colliers International in Greater Phoenix.  "We recently brought the Little Miss BBQ company to the property, which adds dynamic energy as a restaurant destination.  The additional retail square footage is poised for modernization and revived appeal by this historically stable, yet gentrifying area."
Jackson and Larry Ortega of Colliers International in Greater Phoenix negotiated the sale transaction of the center.  The seller was the Phoenix-based Manson Family Trust.
The shopping center, which is located on the east side of 7th Street, just south of Dunlap Avenue offers 38,331-square-feet of retail space on approximately 2.8-acres.  Anchor tenants at the center include the newly leased Planet Fitness (formerly Goodwill space) and Walgreens.  Additional shops include a barber shop and bakery.
"The North Central community has experienced immense transition that spans down 7th street to Midtown," says Jackson.  "Retail efforts have been particularly important in that shift, including the addition of artisan restaurants such as Mora and Stock and Stable.  The Manson Family has been dedicated to the neighborhood and attracting quality tenants to this property for years.  They are pleased that the center will be part of the post-recession renaissance of sorts that is now extending to the Sunnyslope region to the north."