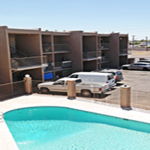 Phoenix, Arizona – La Villa Apartments recently sold for $1 million ($33,333 per unit) a sale price of $50K less than the original asking price for the 30-unit apartment complex in a challenging transaction.
Vice president of Sperry Van Ness, LLC, Danny Lee represented both the buyer and the seller in this multifamily sale.
The property is located at 4117 N. 15th Ave. in Phoenix, which is in the Central Phoenix corridor near the Phoenix light rail system.
We all know that every prospective buyer wants to look at rent rolls and profit and loss statements prior to the purchase.  This factor, among others was detrimental in the decision-making process. The challenge with this transaction was the seller did not keep updated accounting records of the property history.  As the prospective purchase came to a head, the agreement was a price reduction to satisfy both buyer and seller.
"I represented the buyer and the seller, so it made the communication between my clients much easier than this possibly could have been,"  Lee explained. The seller was still happy with the final transaction, which was handled by Nikki Leonard with Intravest Title Agency.
To learn more Lee can be reached at 480.425.5522 in Phoenix.