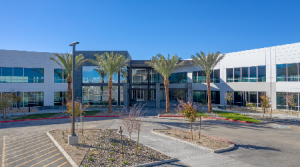 Highly Successful First Phase Spurred Second Phase Construction
Phoenix,  Arizona –  Construction of Chandler Corporate Center Phase II has been completed by developer VanTrust Real Estate.  The project, located at 4100 W. Chandler Blvd. within the One Chandler Corporate Center, was designed to attract Fortune-ranked corporate tenants.
"Companies worldwide are re-evaluating their offices, searching for a place they can safely bring their teams back together. Chandler Corporate Center II is the first building to come online with the features corporate office users seek to welcome their workforce back safely and  productively," says Phil Breidenbach, senior executive vice president with Colliers International in Arizona.  "Tenants seek amenities such as touch-free entries to building lobbies and restrooms, high ceilings offering added air circulation capacity, and large outdoor amenity areas.  Companies looking in Chandler will respond well to this very modern, wellness conscious environment."  Breidenbach serves as exclusive leasing agent for the new building.
The two-story, 117,394-square-foot Class A office building is part of a three-phase campus called One Chandler Corporate Center.  The 26-acre property is located just one mile from the Loop 101 and 202.  The property benefits from a multitude of neighborhood amenities within one-mile distance, including four hotels, 39 restaurants, and 1.76 million-square-feet of retail, as well as several fitness and healthcare facilities.
The new building features an innovative, modern design with attractive aesthetics and pandemic-safe amenities.  The two-story glass entrance leads to common areas including stone and wood accents.  Soaring 14-foot ceiling heights are accented with floor-to-ceiling glass.
"This building was designed for the ever-evolving needs of premier office tenants," says Jenna Borcherding, director of development for VanTrust Real Estate.  "We bring this second phase to the market following the successful delivery of Phase I, which was fully leased to Allstate Insurance and subsequently sold to Strategic Office Partners in 2019.  Mid-construction, we incorporated enhancements to the building in an effort to adapt to the world around us.  As companies plan to bring their employees back to the office, our goal is for them to consider Chandler Corporate Center II the 'healthy and safe' option."